BloodSTOP® iX Trauma Matrix is used in damage control surgery (DCS) to control hemorrhage rapidly and reverse lactic acidosis, preventing exsanguination or death, increasing the survivability of patients.
Plant-based BloodSTOP iX Trauma Matrix demonstrated superior hemorrhage control in extremity arterial injury. It is used by trauma, critical care and acute care surgeons at the medical treatment facility (MTF), as well as first responders on the accident scene .
With the combination of our WoundFLEX® Compression Dressing, surgeons have seen outstanding outcomes in both trauma and burn surgeries when adjunctive pressure is needed.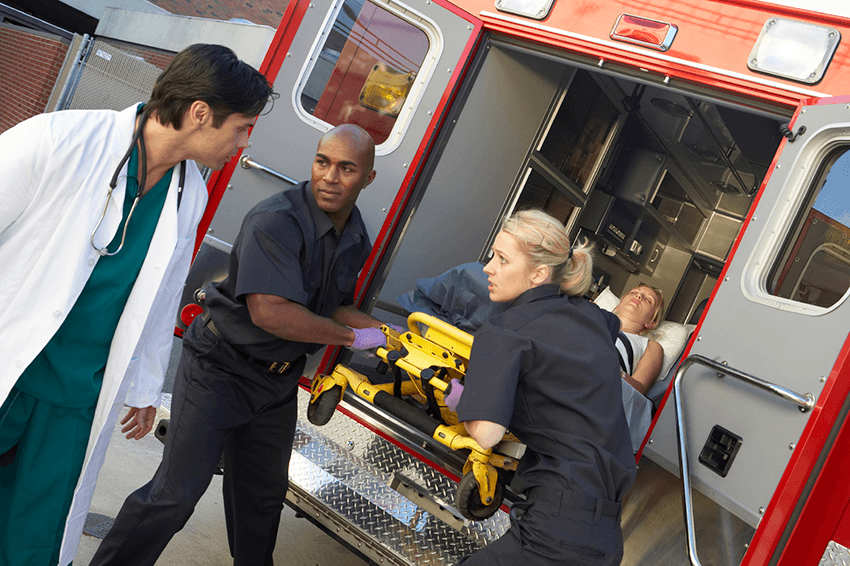 Why use BloodSTOP iX for trauma care and DCS?
Demonstrated superior hemorrhagic control leading to a reduction of blood loss, utilization of blood products, and operating time

Truncate surgical operations (rapid control of major bleeding injuries)

Minimize post-operative complications

Restore tissue perfusion

Maintain bleeding control during transportation without rebleeding concerns
Can be used with negative pressure wound therapy (NPWT) or with wound vacuum-assisted closure (Wound VAC) devices
BloodSTOP® iX Trauma Matrix Hemostatic Dressing
Specifically designed for rapid control of traumatic bleeding in military, prehospital, and burn/trauma care.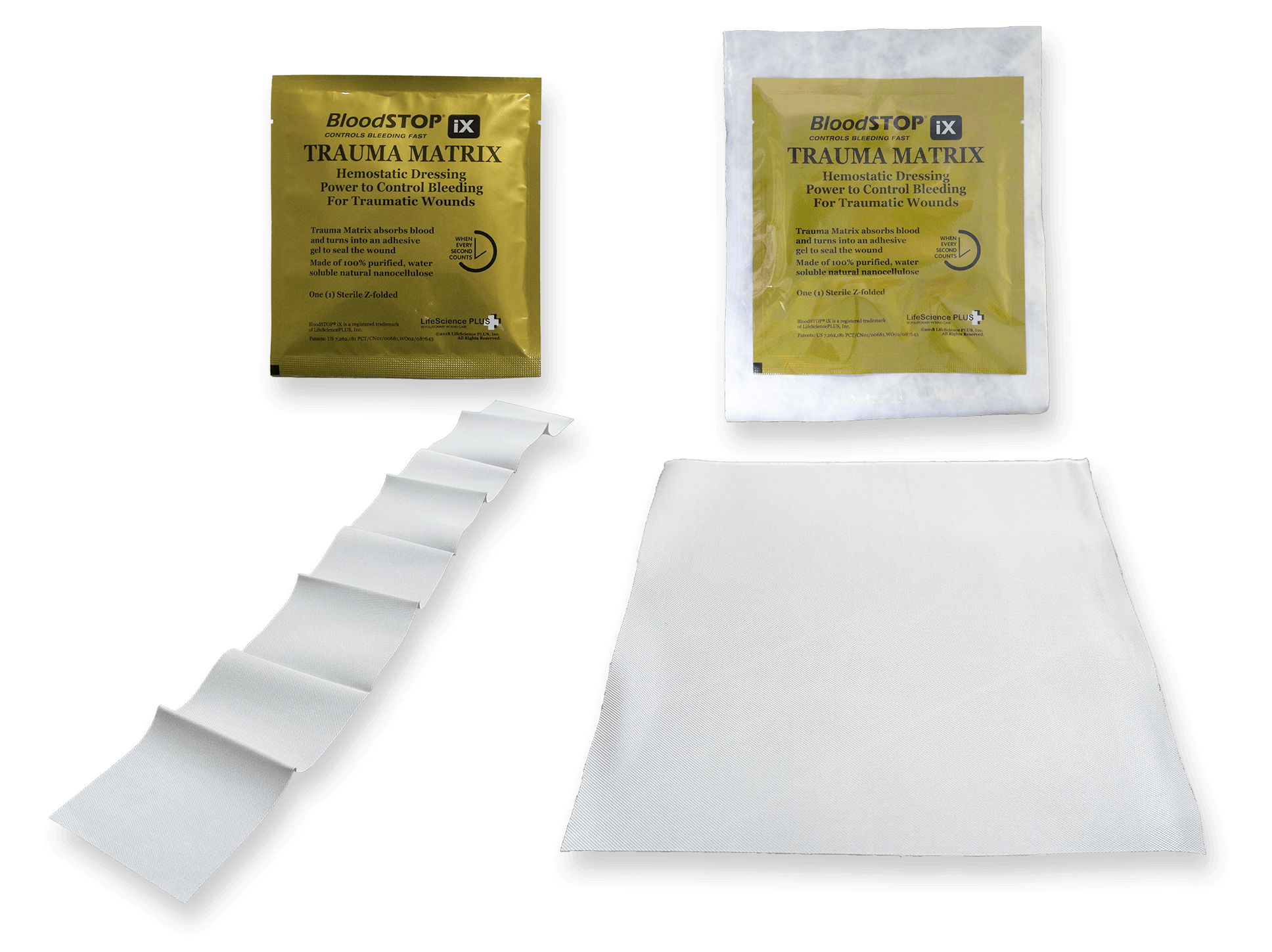 WoundFLEX® Hemostatic Assist
A flexible, stretchable compression dressing designed for adjunctive compression over BloodSTOP iX.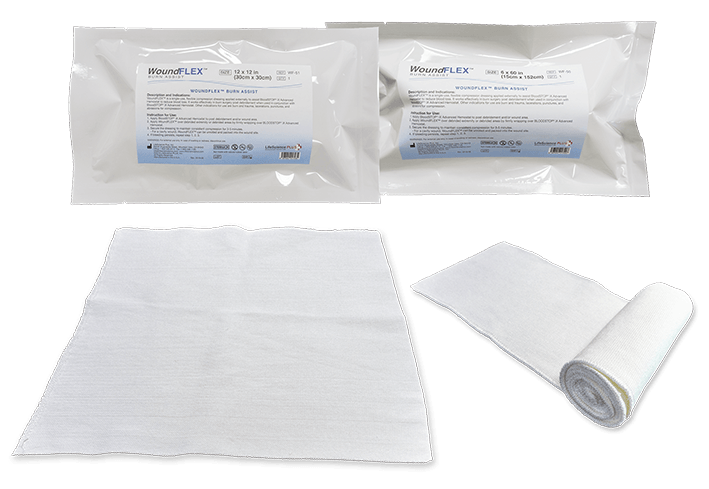 The only technology in the medical field that achieved 100% survival rate on extremity arterial hemorrhage using U.S. military standard trauma injury protocol in a swine model
A preclinical study analyzed the effectiveness of BloodSTOP iX Trauma Matrix in stopping arterial hemorrhage. The study design was based on a standard U.S. military battlefield extremity wound model. BloodSTOP iX achieved a 100% survival rate in the extremity arterial hemorrhage and showed significantly shorter times to hemostasis when compared to the Combat Gauze control group.
– Li H, Wang L, Alwaal A et al. Comparison of Topical Hemostatic Agents in a Swine Model of Extremity Arterial Hemorrhage: BloodSTOP iX Battle Matrix vs. QuikClot Combat Gauze. Int J Mol Sci. 2016;17(4):545. doi:10.3390/ijms17040545
BloodSTOP® iX Trauma Matrix in Extremity Arterial Bleeding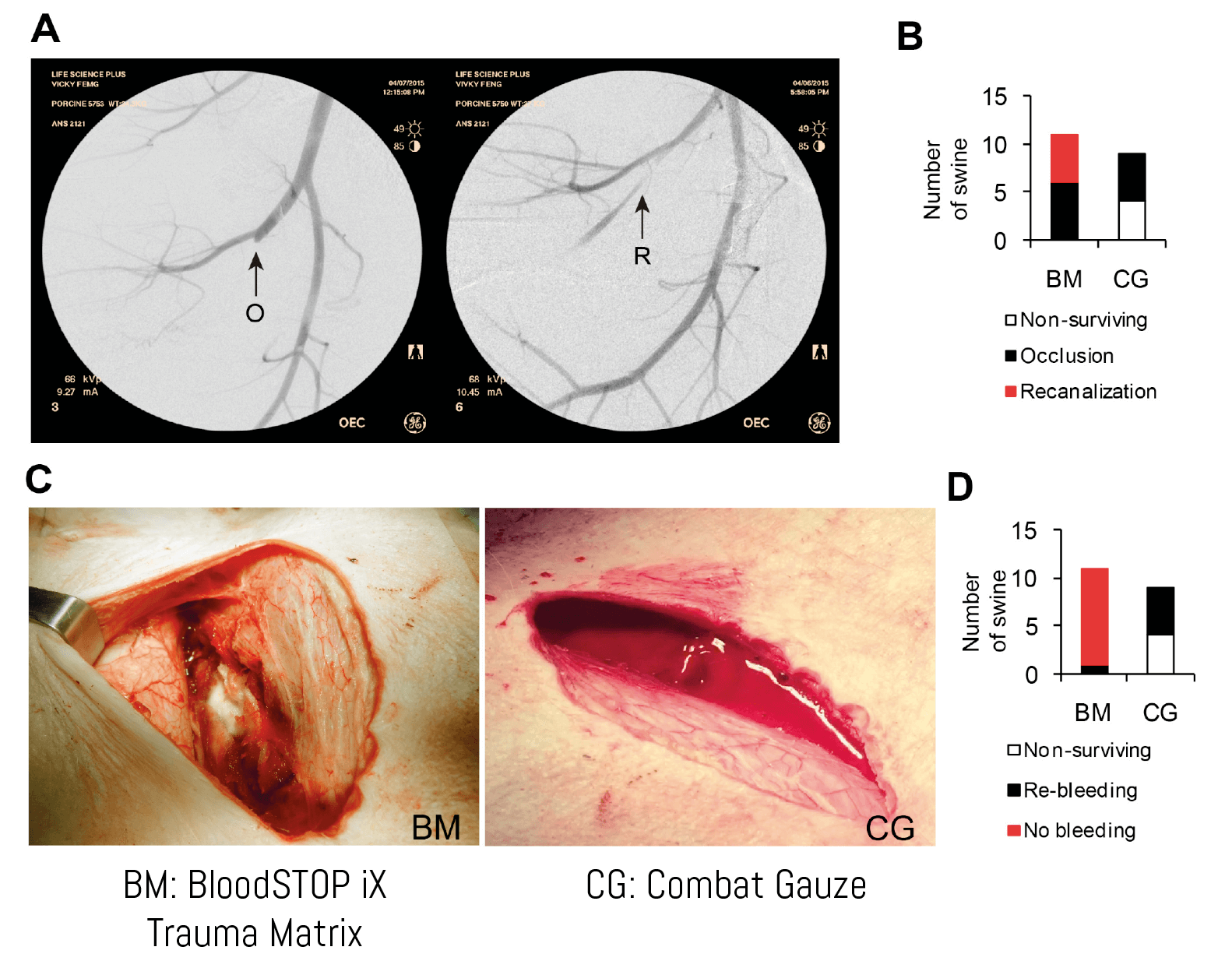 (A) Representative images from fluoroscopic angiography. The arrow indicates the artery injury site. O: occlusion; R: recanalization; (B) Number of animals with injured artery recanalization or occlusion; (C) Representative images of injury site after product removal; (D) Number of animals with or without re-bleeding after product removal.
Lower Leg Compartment Syndrome
A 54-year old female with alcoholism fell asleep on her lower left leg causing a compartment syndrome injury. Platelets were below 21,000. Treatment before application of BloodSTOP iX was 8 units of transfused blood, 8 units of fresh frozen plasma (FFP), and 8 units of transfused platelets. Continuous bleeding occurred over 48 hours. BloodSTOP iX was packed into the wound and bleeding was controlled within 2 hours.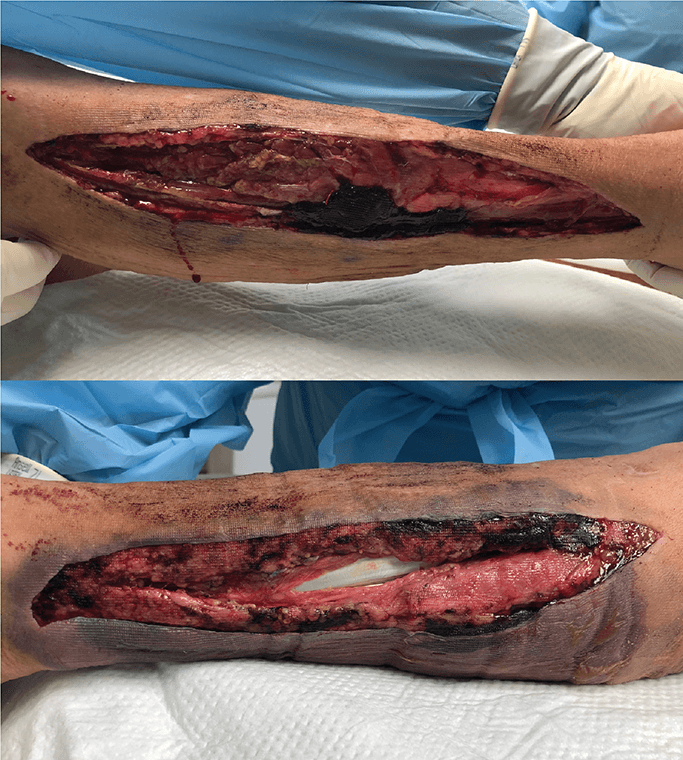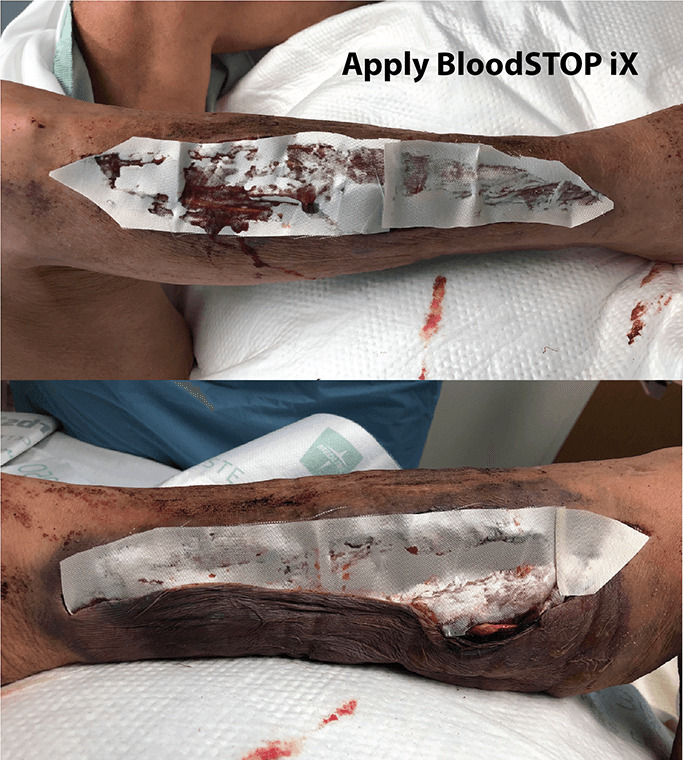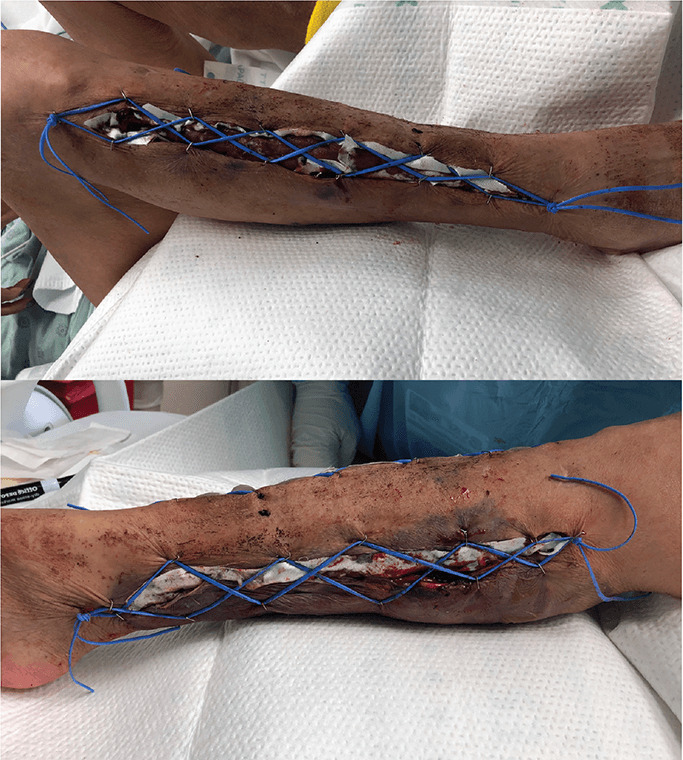 Clinical/Preclinical Evidence
Have Questions or Need More Information?
Statistics
According to the American Association for the Surgery of Trauma (AAST), the leading cause of death for people under the age of 45 is due to trauma, with over 150,000 deaths and 3 million non-fatal injuries per year. U.S. News reported that 329 Americans are injured by guns every day.