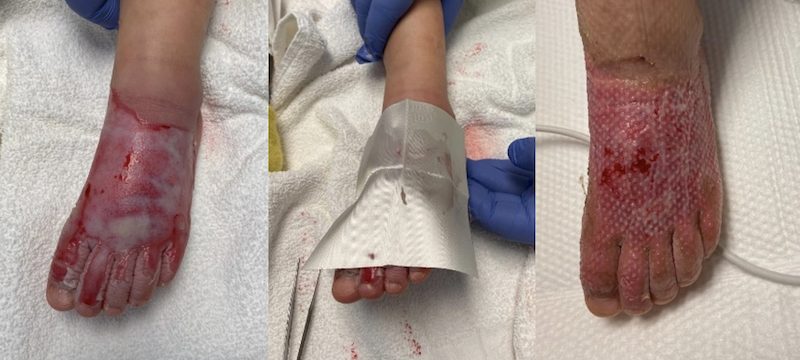 100% Graft Uptake on Day 7 with BloodSTOP iX
The goals during the first 24 hours after burn injury are wound stabilization and faster hemostasis, avoiding burn excision, suture ligation and electrocautery procedures.
BloodSTOP iX is made of plant-based nanocellulose hemostat matrix that turns into a gel upon contact with blood, sealing the wound in a moist environment with no complications and irritations. With BloodSTOP iX, healing time is observed at 7 days on patient's donor sites and same site for re-harvesting, reaching hemostasis 3 times faster when compared to traditional treatments (consisting of more than 7 traditional products and additional procedures).
Healing, 40% TBSA, Full Thickness Burn, Donor Site
| | |
| --- | --- |
| Hemorrhage Control Product | Average Healing Time |
| BloodSTOP iX | 7 days |
| Traditional Treatment |  28 days |
Recently honored by The American Burn Association, BloodSTOP iX hemostat matrix:
Decreases blood loss and operative time
Conforms to any wound
Minimizes ligation and cauterization
Facilitates more aggressive operation due to control of hemorrhage
Keeps moist field and does not interfere with graft uptake
Maintains skin integrity throughout the burn recovery phase
Improves healing rates
Can be used with Negative Pressure Wound Therapy
BloodSTOP iX was placed directly on all donor sites (10). On the 7th day after the tangential burn excision and STSG for their deep partial- and full-thickness burn wounds, the extremity with BloodSTOP iX showed improved wound healing and reduced healing time.
Sources:
T Xu, MD, K Kramer, MD, E Koeck, MD, F Bokhari, MD, S Poulakidas, MD, 342 Minimizing Intraoperative Hemorrhage in Wound Debridement using a Novel Topical Hemostatic Agent, Journal of Burn Care & Research, Volume 40, Issue Supplement_1, April 2019, Page S148,
https://doi.org/10.1093/jbcr/irz013.253